Sometime ago the engine symbol on my dashboard came to life. I noticed the car lacked power and it hesitated. The engine sound was not the same either – it knocked slightly. The engine symbol can mean many things and it wasn't the first time it tuned yellow on my car but now it even blinked. Until this day I have heavily leaned against the repair shop and the cost is always something I want to forget. Sometimes I don't get the results I want to have, so it bothers me to not be able to fix the car myself. But what do my manual say about a blinking engine symbol? I got a Volkswagen Golf IV (mark 4) 1.6 R4 16V AZD by the way. The manual says I have to drive carefully to a repair shop and the blinking means that the exhausts can damage the lambda sensor. I went home and made some research and came across ODB. ODB means on board diagnostics and it comes in form of a connector conveniently placed under the car radio. This is where the repair shop connect a computer to the car to read fault codes and whatever. So I bought this little bluetooth gadget with an ELM chip which can be inserted to the ODB connector and tethered to the phone.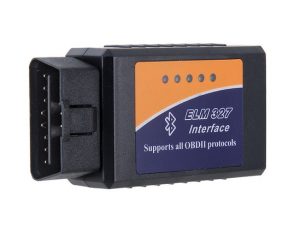 On the phone there are several free and purchasable apps one can download and then get data from the car. It proved very powerful. Not only could the fault codes be read and some cleared but it could also deliver an instant read on all sensors in the car to determine; speed, gas consumption, engine temperature, battery usage etc.
I got this fault code of P0302 witch clearly says that there is a "Cylinder 2 Misfire detected" – so one cylinder is not firing.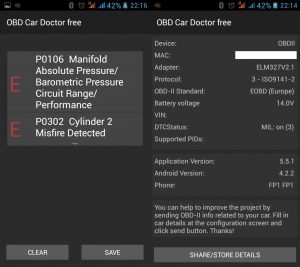 I read about that fault code and decided to exchange the spark plugs – all four. The old ones had been there five years and I was exited to see what they looked like. They were dirty and the one in chamber two was also very oily.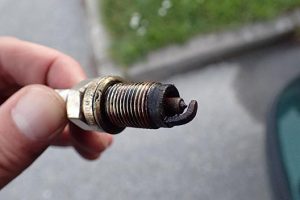 A bought four BOSCH F7HPP33+ with an electrode distance of 1.0 mm equivalent to the BOSCH F7HPP222 as the repair manual says. The repair manual I got is one from HAYNES ISBN 978 1 84425812 3 (Swedish). Even though the pictures are mostly from other Golf from around 2002, its still understandable . I also got a ton of information from YouTube like from this dude and this site (don't know for how long this site will work though).  Getting the spark plugs out was not hard when you know how to; fist remove the air filter and then free the cables so you can pull them ignition coils up. Then slide in the spark plug tool, in my case 16mm, and unscrew them spark plugs.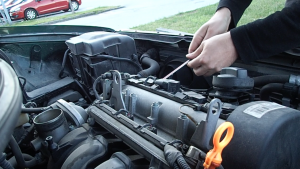 After replacing them the were still a misfire in chamber two, so I switched ignition coil with chamber one and … there were a misfire in chamber one instead. That tells us that there must be something wrong with the ignition coil.
Because of all the oil in chamber two and the carbons stuck on the spark plugs I also investigated if the gasket between the camshaft housing and the cylinder block had a leak. Hours later I found that removing the camshaft housing was very costly and a lot of work with my car. The bolts has to be replaced and there are many small parts that has to come off. Also I could not find any info on how to solve this on my car model, witch led me to think that that maybe this car don't have that kind of problem. But where do the oil come from then? The car will probably tell me later. Until that I have to investigate more about why the car is burning fat. Analyzing the spark plugs says that the piston rings could på worn out – i wonder what that will cost to change.
I bought a new ignition coil from sidat with artno 530165 and placed that in cylinder one. The old from cylinder one was placed in chamber two. So if chamber two is malfunctioning it will destroy an old coil.
With the ELM connected to the OBD i cleared the fault codes and that was it. After driving some I consider the car drivable for now, but what about that oil?